How to Convert on Mobile: The Insider's Guide to Mobile Web Optimization
What is your mobile web optimization strategy? Do you create dedicated mobile landing pages or settle for responsive design?
Many marketers use responsive design to make their desktop landing page look "nice" on mobile, but essentially treating their mobile visitors as mini-desktop ones. Unfortunately responsive design provides mobile visitors with a desktop experience that does not address the mobile visitor's specific needs. Though this solution is better than having mobile visitors pinch-and-zoom, responsive design rarely converts because mobile visitors behave differently and are in a different state of mind.
As you'd expect, mobile visitors are on the go, multitasking, and behaving differently than they would on their desktop. True, responsive design makes the desktop look good on mobile – but that's all it does.
In fact, though mobile traffic now typically represents 60-70% of a site's traffic, desktop conversions are still up to 400% higher than mobile conversions! The reason? Well, to be blunt: mobile experiences suck. Everything from the first landing page to the final step in the funnel is built for desktop visitors. This is why you need a mobile strategy.
Understanding mobile behavior
Most marketers find mobile web optimization frustrating. They spend a lot of time AB testing and optimizing a desktop landing page and funnel… but then simply ignore mobile and hope it will sort itself out. They assume mobile visitors will scroll down a page, search for what they need and convert, however numbers show that this is rarely the case.
Mobile visitors do in fact scroll a lot more than desktop visitors. But we do it by default, a habit that has stuck, as we're constantly looking for something that grabs our attention. Which is why you need to design your mobile landing pages in a way that interrupts that automatic scrolling,  grabs their attention and converts them immediately. The first step to doing that is getting to know your mobile visitors better.
For example, do you know what percentage of your traffic is mobile? What devices they use? And where they drop in the funnel? Knowing this is the first step in understanding the type of experience your mobile visitors expect. Here's how to find out:
Basic mobile metrics to be tracking:
Audience
The first thing you want to check out is the mobile audience view. Here you will find what percentage of your traffic is mobile, desktop and tablet. You will also be able to see exactly which devices your mobile visitors are using so that you can single out any issues with specific devices or browsers. In the example below we can see that the 91%! visitors here are mostly mobile, however their bounce rate is higher and time on site and amount of pages is significantly lower than on desktop or tablet.

Landing pages
Next step: you need to identify the most popular landing pages your mobile visitors land on, and their conversion performance. You'll often find that a landing page that works well for desktop doesn't work as well for mobile. The data will tell you which landing pages require your immediate attention.
Exit pages
As opposed to bounce rate that tells you what percentage of your visitors left without taking an action, the exit pages metric will help you identify a 'leak' in the funnel. What happens to those visitors who pass the landing page and make it to the next steps in the funnel? We've often found that using this metric has helped us optimize a page by simply addressing possible issues down the funnel.
Site behavior
With mobile, the technical stuff, such as loading time, can make or break your conversion rates. In fact, just a 1 second delay in loading time can cause a 7% decrease in conversions! Using Google Analytics, and the site behavior metric, you can identify critical technical issues that you can quickly fix.
There are many other metrics to consider (like acquisition rates to show you which traffic sources are delivering the best results or the worst or search terms). However, you can use these basic ones to quickly get started on identifying your mobile visitor's behavior, search patterns and specific needs.
Beyond the metrics
The basic metrics give us an overview of what people are doing on our site. But there's more to visitors than their behavior; you need to address their state of mind too.
While desktop visitors are stuck at a desk, your mobile visitors are constantly on the move. We check our phones 150 times a day and we're usually doing that while using a different device – watching TV, on a computer, playing with a tablet and more. In fact, 86% of the time we're on our phone, we're also using another device.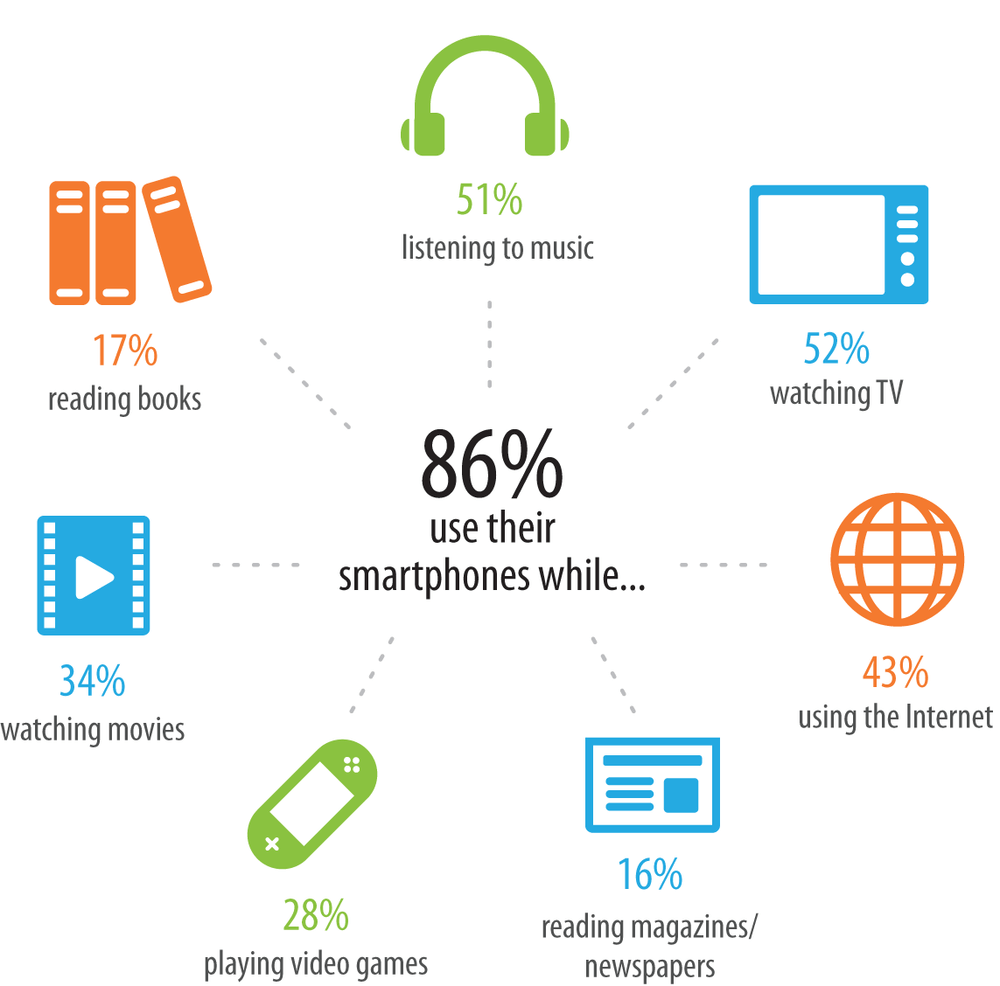 ThinkGoogle
Now let's add the fact that we're often stressed: searching for a phone number we need immediately, an address, trying to get a tow truck or just make it out of the traffic in time for dinner. There are countless things happening to us while we use our cellphone that distract us, and make it hard for us to focus. Everything is more immediate, fast and stressful. These are all important things to know about your customer, where they are physically and emotionally when they arrive on your landing page.
In order to turn more mobile visitors into leads and customers you need to combine that behavioral data we have with the emotional data and start thinking not just about what you say – but when. Enter personalization.
The next step in mobile web optimization
78% of customers are more likely to repeat their visit if a business provides them with targeted, personalized messaging (Infosys). Nowadays, everyone expects personalization and so should you. In fact, 52% of companies report an uplift in conversion rates (subscriptions, registrations and purchases) by using personalization.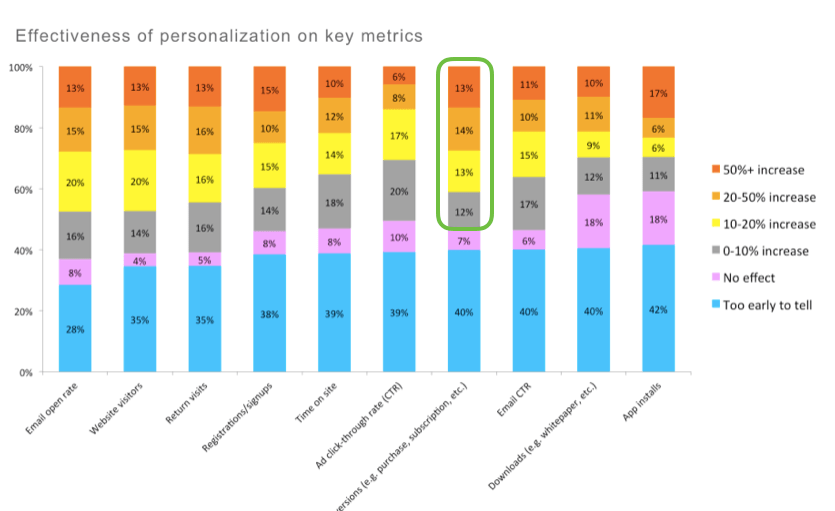 So, the question is no longer "if" you should do personalization, it's how.
Psychological effects of mobile personalization
There are several psychological reasons why personalization works so well; why visitors are craving it and why it increases conversion rates.
One of the greatest things about our mobile phone is that we have everything we need at the tap of a finger. However, "a wealth of information creates a poverty of attention" (Herbert Simon). Since we're overwhelmed with information, we get easily distracted and we have a hard time making decisions. This is commonly referred to as 'Analysis Paralysis'. Personalization helps filter out the unnecessary noise and helps us focus on what matters to us. It directs our attention to key elements and instead of spending a long time filtering through irrelevant information, it highlights what we really care about.
In addition to avoiding analysis paralysis, personalization also increases trust. The data shows that people buy from those they trust and feel secure with. This is why social proof such as testimonials and reviews work so well on landing pages. Personalization is another great way to increase trust and build a relationship with your landing page visitor. By delivering the right message at the right time according to your visitor's specific behavior you make them feel comfortable, secure… and more likely to convert.
There are a few ways you can get started with personalization on your landing pages to achieve these results.
3 Mobile personalization strategies
Personalization is about understanding your mobile visitor's behavior and state of mind in real time. This knowledge helps us deliver a more effective, more tailored experience to our potential customers.
Leveraging Location
One way to get started is by using Location-Based Personalization. Utilizing your mobile visitor's location you can personalize the experience. Here are a few ways you can utilize localization on your next campaigns:
A great way to generate calls and leads is by displaying a local number for customers to call or mentioning their location in your copy – showing them this message is meant for them. We used a similar technique for a locksmith in Atlanta. This splash was displayed according to the mobile visitor's location and their search term and increased calls by 101%.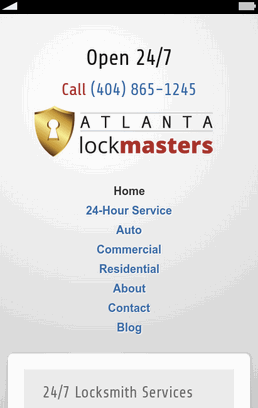 Show the local time to each visitor (Good morning London!)
If you're displaying pricing plans or product pricing, highlight the local currency to each mobile visitor. Etsy does a great job recognizing that I'm currently in Israel and displays the local currency for me. This makes it easier for a potential customer to take the next step without having to estimate the price in their local currency.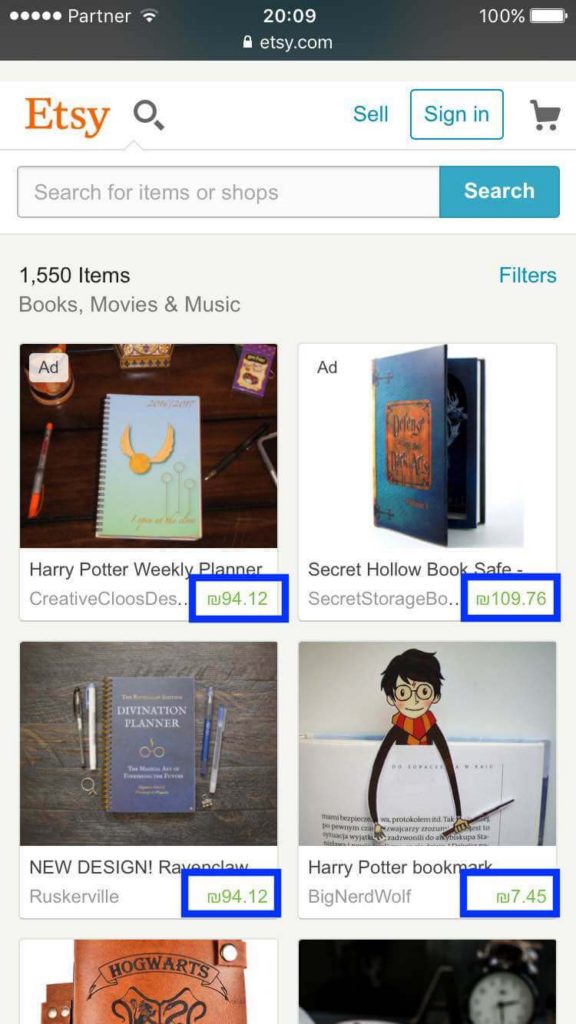 Provide a landing page in the local language: identify the most common countries visitors come from and display a page in their language or a simple welcome message.
Provide a relevant call to action according to the local time of a customer. For example, for this site we triggered a click-to-call CTA during office hours and  a contact us form during the evening.
Personalized Content
Another way we've found that works like magic is delivering personalized content. Giving people the content they expect, and search for, is a great way to increase conversion rates and can be done in 2 simple ways:
Addressing Visitor Intent – One of the ways to personalize content is by identifying the search term a visitor used and displaying it as the main title of the page. This is a quick and easy way to show potential customers what they're looking for. My locksmith example also fits again here. If someone searches for "Locksmith help now" you can display that as your title: "Get locksmith help now!"  At Banana Splash we also identify the specific page a visitor is on and suggest they read additional content on that specific topic. For example, people who are reading an article about the Internet of Things would get a splash suggesting they read more on that specific topic.
Recognizing your visitors – An even simpler way to personalize content is by segmenting by new and returning visitors. When it comes to the type of visitors we have on our site, new visitors usually require different information than a returning visitor who probably already has a general idea of who you are and your values. For example, a simple "Welcome back" message to someone who has visited your site before can make a huge difference. You may learn that new visitors convert better by watching a video about your company, while returning visitors respond well to a white paper or suggestion to call.
A social proof hack
As you already know, social proof is a huge driver of trust and conversion rates. While businesses always talk about themselves in a positive way, nothing beats a real recommendation, review or testimonial from a happy customer – especially if it's someone your visitor knows.  One cool way to combine social proof and personalization is by displaying the Facebook friends widget on your landing page or site. The widget lets your visitors see which of their friends have liked you on Facebook. The idea being that your visitors notice familiar faces, know that their friends and peers approve of you, and so will feel comfortable and safe to become a customer. This small hack gives the feeling of a site that is tailored to a specific visitor.

Creating an optimized experience for mobile visitors is something that should ALWAYS be on your mind. With every campaign you run, every landing page you create, and every newsletter you send out, the people you are communicating with are mobile and need to be addressed as such. Catering to the mobile visitor's needs, state of mind and behavior isn't a simple thing, but it leads to great results. Getting to know your mobile visitors, running tests, and personalizing the customer journey are all a vital part of taking the next step in personalization and mobile web optimization. Start making it a ital part of your marketing efforts and you'll create an experience that delights your customers – and delivers significantly higher ROI.